Mold Testing Calgary and Edmonton
Commercial, industrial, institutional and residential mold testing services since 1996.
Call for a free consultation in Calgary 403-520-0101 or Edmonton 780-868-6913, or e-mail us today.
Why do mold testing?
Mold is the common name for various fungi that grow in damp places, and because it's so surprisingly common many residents and businesses consider it harmless. That's a mistake.
Mold is often toxic. To reproduce, it releases spores that become airborne and countless lung problems may arise when they are inhaled, such as:
Allergic reactions
Asthma
Coughing and build-up of phlegm
Irritation of the ears, nose and throat
Respiratory infections
Sick building syndrome


(a wave of chronic illness among building inhabitants. SBS is not solely caused by mold, but is a work-oriented illness associated with various toxic compounds that affect air quality)

Wheezing and shortness of breath
Because mold isn't always easy to detect, the symptoms associated with it are often mistaken for allergy symptoms such as those caused by hay fever.
Choose a reputable mold testing company to find the problem
Some mold is easier to spot than others, so once it's visually discovered and removed it could still grow back in other places you may not suspect. It's therefore best to hire a certified mold testing company to check for mold.
Since 1996, Western Site Technologies has tested for and located toxic and non-toxic mold in both commercial and residential settings. Our technicians have Certified Mold Inspector Designation from the Environmental Assessment Association. Among our other certifications are:
American Council of Accredited Certification (ACAC)
American Indoor Air Quality Council (AIAQC)
Institute of Inspection, Cleaning and Restoration Certification (IICRC)
International Air Quality Association (IAQA)
We follow industry best practices and guidelines set forth by Alberta Health Services. We promise professional service, quick turnaround time and provide warranties for all our work. If mold does exist in your environment, our mold testing will find it.
Identifying and testing for mold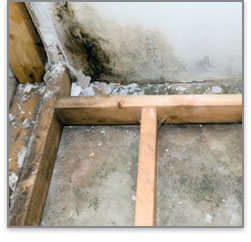 Most commonly we find mold, such as toxic black mold, in damp surface areas of homes and commercial buildings. Sometimes the conditions are fostered by weather factors such as flooding by storms, which often results in mold developing in basements.
Buildings that previously housed a marijuana grow operation are also commonly contaminated with toxic mold. The existence of the plants, heat, moisture and air within the grow operation encourage the cultivation of mold that can remain long after the grow operation has been shut down.
We check for mold in bathrooms, attics, ceilings, carpets, wood framing, drywall and any other areas where it might grow.
To perform a test, Western Site Technologies' technicians will collect samples throughout your property with our specialized equipment. We'll then test those samples to determine whether or not the spores are toxic and if the levels are higher than normal for a building.
Once we understand the nature of the mold, we can provide you with a written report and advise you on how best to remove it and prevent it from resurfacing again.
For a free written quote on mold testing or air monitoring, contact us now.